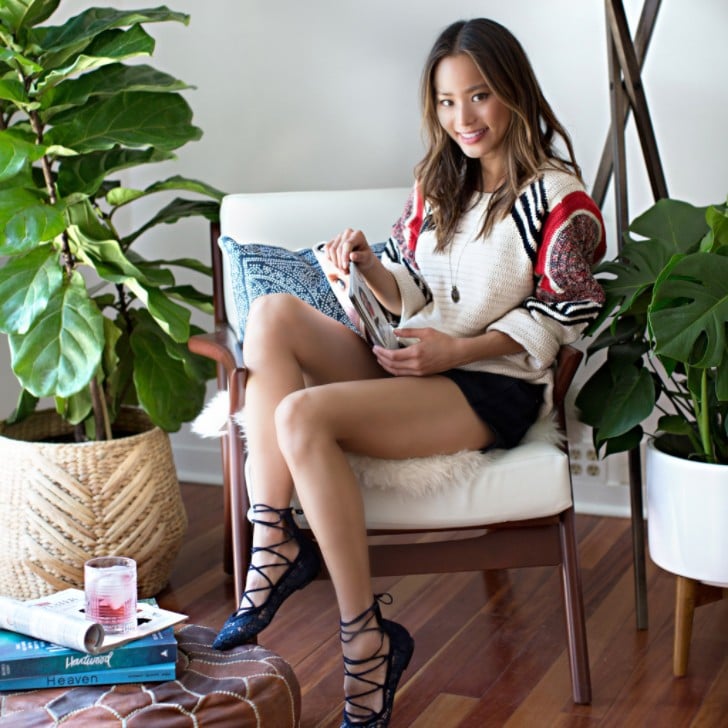 Jamie Jilynn Chung is an American actress, blogger, former reality television show
star who was born on 10th April, 1983 at San Francisco, California, USA. She is Korean-American and was raised by "traditional" parents who moved to the United States in 1980, and ran a hamburger restaurant. 
She was described by MTV as someone who "tells it like it is".

 
 She studied Economics at the University of California, Riverside. Chung's break came in 2004, when she was working in a sports bar. She came into lime light by MTV reality show The Real World: San Diago in 2004. Afterwards she was casted in reality show Real World/Road Rules

Challenge

:  The Inferno-II. She is well known for her roles in Deagon Evolution, Grown Ups, Premium Rush, Sorority Row, The Hangover Part-II, Sucker Punch, Big Hero 6. 
Jamie Chung Religion
Chung's husband is jewish and she want to follow her Korean culture and judaism both. Shehas quoted "

"We're both very religious people and I would like to expose my children to my Korean culture, and Judaism is extremely important to him. We respect that about each other," Thats a quality of true actor to respect all religions.
Jamie Chung Political Views
Jamie Chung is non-political. She has not supported any of the political party ever in public and have not gone in any campaign of any party. Maybe she wanna explore herself more to understand these political issues.
Who is she dating?
Chung and Greenberg began dating in 2012 and became engaged in 2013. 
Greenberg proposed to Chung while the two v

isited Chung's hometown of San Francisco, and did so by singing a song he wrote. The married in 2015. 
The wedding was a three-day celebration consisting of a welcome dinner on Halloween Eve in which guests were required to wear costumes, followed by a wedding ceremony on October 31 in which Chung and Greenberg exchanged non-denominational vows.
Jamie Chung Hobbies
She has quot
e
d "To be honest wit

h you, I'm more of a girl's girl. I'm much more comfortable being around other girls.
I love photography, I love food, and I love traveling, and to put those three things together would just be the ultimate dream.

If acting doesn't work out, I plan to do food photography and just eat my way through the entire world. I'm a big foodie, and if I could make some career out of it, that would be fantastic.

" She is a fun loving girl. She has qualities of a perfect adventurous. 
Interesting Facts
She was working at "Tremors", a sports bar in Riverside, California, as a waitress. When MTV held auditions there, they saw her and asked her to audition..... she got it.
She replaced Emma stone in Sucker Punch (2011) when Emma dropped out due to scheduling
conflicts.
She is of Korean heritage.
She graduated from Lowell High School in San Francisco, California in 2001 and from the

University of California at Riverside in 2005 where she earned her Bachelor's Degree in economics.
Chung won the Female Stars of Tomorrow Award at the 2009 ShoWest industry trade show along with her Sorority Row 
castmates.
Sources
https://en.wikipedia.org/wiki/Jamie_Chung
http://www.imdb.com/name/nm1512166/